[ad_1]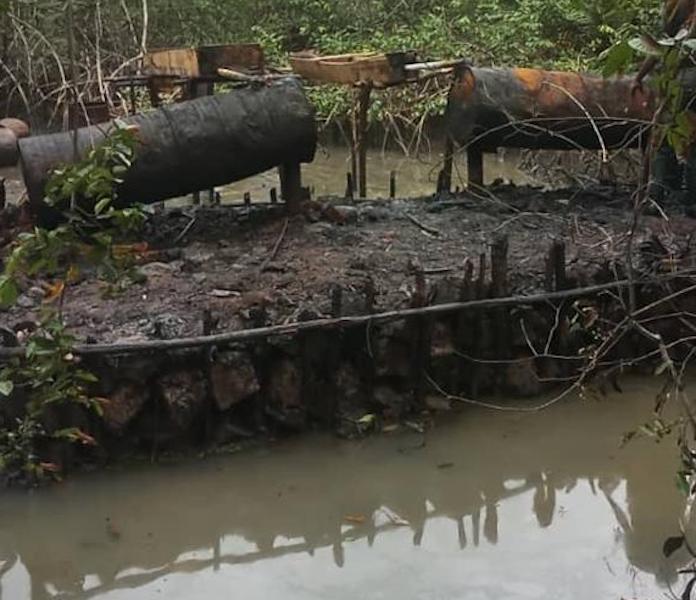 With over 14 billion naira worth of stolen products recovered from pipeline vandals, crude oil thieves and bunkerers in six weeks in the ongoing Operation DAKATAR DA BARAWO, Chiemelie Ezeobi reports that beyond these successes, there is need for the establishment of Maritime Courts to ensure speedy dispensation of justice and rid the Nigerian Navy of the burden of housing these seized vessels, products and even crew. While it is also imperative for a comprehensive database for such maritime criminals given the intensity and trans-national nature the theft has assumed, it has become pertinent to ponder if legalising and monitoring  these illegal modular refineries will help curb the excessive waste of the nation's rich oil resources
As already established, pipeline vandalism, bunkering and crude oil theft are thriving illegal activities that have put a huge dent on the nation's economy.From illegal oil wells to dug out pits and reservoirs, as well as Illegal Refinery Sites (IRS), these crude and criminal  way of siphoning the nation's products have also damaged the environment.
However, with the recent set up of Operation DAKATAR DA BARAWO, which means "Stop the Thief", the navy has dealt a huge blow on these saboteurs. 
Set up to support the existing structure on ground, Operation DAKATAR DA BARAWO has focused attention on dominating the nation's waterways through aggressive and intelligence driven patrols to curtail pipeline vandalism, illegal oil refining as well as prevent conveyance of stolen oil products to other nations through the sea.
As reiterated by the Chief of Naval Staff (CNS), Vice Admiral Awwal Gambo, it was imperative to curtail the incessant crude oil theft, illegal oil refining and other sundry crimes within Nigerian maritime  environment and the Gulf of Guinea considering the recent reports of massive revenue losses which compelled all efforts to be emplaced to curtail the wanton theft and illegal oil bunkering of crude oil in the nation's maritime environment.
But their arrests and seizure of operational equipment has thrown up so many posers like; What next? Is damaging the products the way out? What about the seized products? Are they not constituting risks on navy jetties and even the environment? Why can't the FG approve these modular refineries but ask them to get permits and environmental approvals? In the first part of this series published on Monday, May 16, 2022, which highlighted the dangers posed by pipeline vandalism, bunkering and crude oil theft, THISDAY had quoted the Nigeria National Petroleum Corporation (NNPC) Ltd Group Managing Director, Melee Kyari, who revealed that $1.5 billion was lost to oil thieves between January and March 2022. 
Also in the second part of the series published on May 23, 2022, THISDAY had also highlighted the successes recorded by the Nigerian Navy through Operation DAKATAR DA BARAWO, which means "Stop the Thief".
In this third and final part of the series, THISDAY posits the way forward while advocating the need for Special Courts to ensure speedy prosecution of such maritime criminals. Also, THISDAY ponders if legalising and monitoring of such crude refineries will curb the menace as against destruction of the recovered products. 
Arrests in May
While the oil thieves and criminals were denied of about N200 million and $700,000 worth of products within a period of roughly two weeks, in the third week, operatives seized  over 6,000,000 litres of products valued over N3 Billion and in the fourth week, the operatives recovered over 2,178,500 litres (13,703 barrels) of stolen crude oil, about 787,500,000 litres of AGO and 20,000 litres of Kerosene all valued above N1.7 billion. 
Given the gains and successes of the operation in April, the navy extended the duration of the operation beyond the first 30 days to May. In weeks five and six, the Director of Naval Information (DINFO), Commodore Ayo Vaughn, said seizures and arrests of over 6 million litres of products and stolen crude oil were made. Also, more than 20 suspects were arrested and handed over for prosecution. 
Blow for Economic Saboteurs
Within the space of four weeks and some days, the operatives caused severe havoc on these oil thieves and criminal economic saboteurs. 
Summarily, with respect to previous seizures and recoveries during OPDDB for the month of April alone, the Nigerian Navy denied oil thieves and economic saboteurs an estimated ten billion, seven hundred and one million, seven hundred and ninety-three thousand, fifty-two Naira, five kobo (N10,701,793,052.5kobo) worth of crude oil and related products for the period under review.
 The breakdown, which was made available to THISDAY reads as follows: while AGO recovered was 6,558,000 litres at 720 per litre which amounts to N4,721,760,000; Crude Oil was 16, 423, 414 litres (103,291.91 barrels) at $105/barrels, which amounts to  $10,845,650.55 (N5,965,107,802.5k); DPK  was 319,150 litres at N235 per litre which amounts to N7,500,250; and PMS was 45,000 litres at N165 per litre, which amounts to N7,425,000.
The total figure amounted to ten billion, seven hundred and one million, seven hundred and ninety-three thousand, fifty-two Naira, five kobo (N10,701,793,052.5k). 
Meanwhile, the sludge recovered amounted to 650,000 litres while the Illegal Refinery Sites (IRS) that were deactivated were 148 while wooden boats destroyed were 36.
Therefore, for weeks five and six, which saw the extension of the operation given the successes recorded, seizures of over 6 million litres of products and stolen crude oil were made. Also, more than 20 suspects were arrested and handed over for prosecution. 
Breakdown made available to THISDAY by the DINFO read thus; Crude oil was 2, 475, 000 litres (15,567.03 bbls @ $105/bbl) which amounts to $1,634,538.15 (N 678,333,332.25); DPK of 625 litres @ N 565/ltr, amounting to N 353,125; AGO was 3, 575, 587 litres @ N 720/ltr, amounting to N 2,574,422,640; while PMS was 180,000 @N 165/ltr amounting to N 29,700,000.
Therefore the total value of products denied oil thieves in weeks five and six was N 3,282,809,097.25  (Three Billion Two Hundred and Eighty-Two Million Eight Hundred and Nine Thousand Ninety-Seven Naira Twenty-Five Kobo Only).
Wooden boats seized were 32 and one market boat and six speed boats were also recovered, while six trucks and a Ford model bus was also mopped up.The operatives also shut down 16 IRS, 85 ovens, 114 storage tanks and 46 dug out pits.
For Vice Admiral Gambo, the successes recorded despite the flashes of resistance by the vandals, will in no way deter the NN from ensuring zero tolerance for COT, IRS, illegal bunkering and related economic crimes in the nation's maritime environment and adjoining territory.
Reiterating NN's resolve to ensure zero tolerance for COT, illegal bunkering and related economic crimes in the nation's maritime area and the South-south geopolitical zone in particular, he noted that with all the arrests made, economic saboteurs and their sponsors are therefore warned to desist from these unpatriotic and criminal acts or face the wrath of the law.
Dangers Posed by Seized Vessels on Naval JettiesBut despite the level of successes recorded, housing these seized vessels pose a grave disadvantage for the navy.
Due to lack of space by prosecuting agencies, these seized vessels are most times left in the care of the navy. Aside the manpower it costs the navy (because personnel are often mounted on duty on each vessel), it poses danger to the shorelines and naval jetties. 
Shipwrecks have been known to cause multiple accidents at sea. Several cases abound of passenger boats that capsized after ramming into the wrecks that dot the maritime domain, especially those that have sunk into the water and are undetected on the surface level. 
The questions usually are; why are there wrecks at sea? Where do they come from? Firstly, most of these wrecks are formerly vessels that were operational. While most of them were arrested for various maritime crimes, others were faulty and left to go aground because of paucity of funds or lack of needed spares. 
However, most of the wrecks were caused by delay in prosecution of arrested vessels. For instance in NNS DELTA, in the ongoing Operation Swamp Buggy, several persons have been arrested for various maritime offences and handed over to prosecutorial agencies, while the vessels were being kept in trust for the agencies in line with the Harmonised Standard Operation Procedure (HSOP).
 But that is where the problem lies; holding the vessels in trust for the prosecuting agencies is costing the NN so much money to maintain the vessels to avoid their going aground. 
THISDAY had once reported that some of the vessels have been in the jetty for up to nine years with 185 outboard engines, hoses and other equipments recovered from the suspects or sites.
In NNS PATHFINDER, it was no different. The base also battled with prolonged stay of arrested vessels in its jetty, which poses threat to mariners along that channel. 
In fact, in 2019, the  Department of Petroleum Resources (DPR) had at that time been contacted to evacuate products from some of the vessels arrested since 2015 to no avail. This means that these wrecks will continue to litter Nigeria's coastal waterways and they can't be removed at whim because of legal bottlenecks. But apart from endangering shipping, most of the wrecks constitute environmental pollution and hazards.
However, the Hydrography office of the navy, in line with its statutory responsibilities, has already identified most of these wrecks and with the recent entrance of NNS LANA, the navy's state-of-the art hydrographic vessel, the sea bed would soon be mapped totally so that seafarers can navigate safely.
 Already, the department had surveyed the Lagos Port and Badagry creek channels of the Western waters where 35 wrecks including masts, ships and obstructions constituting life threatening threats to mariners were discovered and with NNS LANA, have even done more.
Need for Special Maritime Courts Given the number of arrests made, it is also pertinent that the law runs its course and speedily too. This is because most times, these cases stagger in court, sometimes dragging up to six years and even more, thus incurring huge financial loss for the navy.
This and more are some of the reasons why the navy has continuously advocated for Maritime or Admiralty Courts, to focus solely on maritime crimes.
Given that the regular court processes delay the disposal of seized vessels in the navy's custody, coupled with the fact that their maintenance costs the navy huge amounts of funds to keep them in good shape, these special courts will come in handy.
In fact, when he disclosed the alarming loss of over $1.5 billion to oil theft between January and March 2022, NNPC GMD, Abba Kyari also reiterated the Nigerian Navy's continuous clamour for special courts to unmask those behind illegal crude oil refining and prosecute them, stressing that "we must have special courts to try those behind this business. This is an elite business. It is not done by poor people". 
For those in the know, once a vessel is arrested on any suspicion of crime or illegal activities, they are arrested by patrol units and preliminary investigation is carried out. As soon as a case is established, the vessel is handed over to the appropriate prosecution agency.
However, that is where the main challenge comes as most the prosecuting agencies do not have holding bay for vessels. Also, most times they refuse to take the crew and the responsibility of feeding them.
But with the Maritime Court, the vessel will be held on bond and whenever the crew or the vessel are required in court, they will be made available.
Giving Navy Prosecutory Powers for Maritime Crimes
For many stakeholders, one of the ways to tackle maritime crime is to give the navy prosecutory powers. And to do this, the House Committee on Navy is already on course to review the Armed Forces Act. 
According to the reps committee on navy, this will empower the navy to tackle the challenge of maintaining vessels seized during operations on the waterways.
 The House of Representatives committee chairman on Navy, Rt. Hon. Yusuf Adamu Gagdi, recently said the review of the Armed Forces Act has passed through the first reading and second reading has been debated on with hopes for it to be subsequently passed after meeting the requirements. 
In the review, a provision in the Act was created to empower the NN not to handover any vessel to any agency but to strengthen its legal department to prosecute any maritime crime that they arrest.
Is Legalising Modular Refineries the Way Out? 
But beyond the aforementioned measures, one thing has been germane in tackling crude oil theft: legalising but monitoring these illegal modular refineries. 
While some believe legalising them will spur them to become worse, there are yet many others who think it will at least tame the widespread theft once proper monitoring is done. 
Already, the federal government is mulling legalising these modular refineries as a way to curtail the huge waste of the nation's economic product.
Sometime in 2020, Sen. Ita Enang, the Senior Special Assistant to the President on Niger Delta Affairs, had said the federal government was amenable to such given that they had engaged some of these artisanal illegal oil refiners in the Niger Delta region and had seen the need to legalise their operations as they can produce chains of petroleum products and supply them for consumption in the country.
He was of the opinion that engaging them would go a long way to save cost for the country and boost revenue generation because although they may not produce much for large scale commercial quantity,  they will help curb capital flight as the nation would not pay for import or export, as well as port charges. This effectively eliminates subsidy and brings down the cost of refined petroleum products.
Need for Comprehensive Database for Maritime Criminals 
As part of long term measures to completely ameliorate these tripod menace, the CNS recently advocated for a database for maritime criminals given the intensity and trans-national nature of maritime crimes within the region.
He posited that the fight against maritime crimes like piracy, crude oil theft and pipeline vandalism, amongst others, require a more diligent record and data capturing identity of perpetrators. 
The CNS who spoke at the 10th SECUREX West Africa, an international security exhibition held at the Landmark Centre, Victoria Island, Lagos, aptly delivered a keynote paper titled "Protecting Critical National Infrastructure: Tackling Maritime Crimes; Protecting Nigeria's Ports."
In his lecture, he revealed that most of the criminals migrate to other countries within the sub-region to continue their activities once they have been arrested, convicted and done their times, thus the need for a comprehensive database.
He said: "Despite the Nigerian Navy's (NN) effort at ensuring that maritime crimes are reduced, new challenges continue to unfold due to the dynamic nature of criminals. The intensity and trans-national nature of maritime crimes within the region requires a more diligent record and data capturing identity of perpetrators. 
"Sadly, lack of adequate database on identified criminals has allowed perpetrators of maritime crimes to relocate from one country to the other without being identified. Some persons who have been prosecuted for maritime crimes on completion of their jail terms have resumed their criminal activities in other countries unnoticed…"
"This gap within the West African sub-region needs to be given more attention and addressed. Clearly, with improved database and information sharing on persons prosecuted for maritime crimes, it would be easier to track and apprehend such persons, should they continue to live a life of crime.
"It is envisaged that the threats may mutate in form and structure depending on where the naval forces are most effective. This brings to fore the need for a viable naval force in other countries within the GoG so as to establish credible presence within our collective maritime domain."
However, he said the navy has continued to refine its procedures in terms of strategy, operations concepts and doctrinal practices, adding that it also ensures ports facilities protection through the Secured Anchorage Area initiative in collaboration with the Nigeria Ports Authority (NPA).
Way Forward
Industry watchers and stakeholders want pipelines to be more secure, urging security agencies to go beyond arresting to successfully prosecuting. 
Also, there is a continuous need for speedy dispensation of justice and forfeiture of vessels used in the crime. In such cases, the navy has appealed to the judiciary and prosecuting agencies to fast-track the trials to save the cost of maintaining, securing the vessels and other exhibits the prosecution agencies do not have facilities to keep. 
Stakeholders also suggest partnership among security agencies, not leaving the fight to the navy alone. Also, the agencies cannot successfully tackle the criminals without citizens, traditional rulers, community leaders' support.
While the laudable efforts by the operatives and in turn, the Nigerian Navy must be commended, it is also pertinent that they do not rest their oars, rather tackle the root of this economic sabotage- the sponsors and owners of these illegal oil refineries.
Also, with when this prosecutory powers are gotten, the navy must also go after the end-users and fuel stations, as well as vessels who are used as conduits to siphon the nation's common wealth. Only until these are done will the nation be finally rid of these crude oil thieves and economic saboteurs. 
Quotes "For Vice Admiral Gambo, the successes recorded despite the flashes of resistance by the vandals, will in no way deter the NN from ensuring zero tolerance for COT, IRS, illegal bunkering and related economic crimes in the nation's maritime environment and adjoining territory"
"While the laudable efforts by the operatives and in turn, the Nigerian Navy must be commended, it is also pertinent that they do not rest their oars, rather tackle the root of this economic sabotage- the sponsors and owners of these illegal oil refineries"
[ad_2]

Source link